Executive Seating – All floor plans
Top-grain leather upholstery
Leather-matched seat belt webbing
Full berthing recline
360 degree swivel
Hidden, retractable headrest
Shoulder and lap restraint system
Under seat stowage
Forward and aft tracking
Inboard and outboard movement
Stowable inboard and outboard armrest
VLS Seating – All floor plans
Top-grain leather upholstery
Recline
Adjustable headrest
Shoulder and lap restraint system
Stowable armrests
Quick release floor fitting
Break forward seat back
Optional tray table
Weight per seat 45lbs
Crew Seating – All floor plans
Top-grain leather upholstery
Leather-matched seat belt webbing
Painted, interior-matched seat base
Refreshment Center Cabinet – Floor plans A, B & F
Fastened, removable air pot
Cup holder
Upper and middle storage drawers
Lower drawer with ice bin
Aircraft-certified glides and latches
Lightweight composite
Brushed aluminum hardware
Contoured to sidewall
Pilot Storage Cabinet – Floor plans A, B , D & F
Two cup holders
Lockable upper drawer
Lower drawer with ice bin
Aircraft-certified glides and latches
Open storage for pilot manual and other materials
Lightweight composite
Brushed aluminum hardware
Contoured to sidewall
Midship Cabinets – Floor plan C only
Air pot, stored in left-hand cabinet drawer
Upper and middle storage drawers
Lower drawer with ice bin liner
Aircraft-certified glides and latches
Lightweight composite
Brushed aluminum hardware
Contoured to sidewall
Sidewalls – All floor plans
Lower sidewalls covered with decorative fabric
Leather-wrapped sidewall trim with metal accent
One 110-volt outlet per side
Tables – Floor plans A, B, C, D & F
Durable hardwood trim
Leather work surface insert
Rack and pinion lift mechanism
Two cup holders per table
Hardwood bullnose table edge
Lightweight composite panels
Fabric-covered tables blend with lower sidewalls
Carpet – All floors plans
100% wool carpet
Edges bound with matching binding tape
Bottom layer of carpet fits between seat tracks
Top layer of carpet conceals seat tracks
Aft Divan with Lavatory – All floor plans
Take-off and landing certified seating (see floor plans)
Large storage drawer
Toilet roll compartment
Installation access door
Clean flush toilet under right-hand seat
Top-grain leather cushions
Leather-matched seat belt webbing
Two cup holders
Curtains – All floor plans
Forward and aft curtains
Wool fabric
Snap closures
Tie backs
Certification – All floor plans
STC is FAA, EASA, CTA and CAAC approved
Warranty
2-year limited warranty on materials and workmanship (please see detailed statement for more information)
Optional
Forward dividers
Center console
*Individual seat or floor Strip-LED cabin lighting
*Plating
*Upgrade headliner
*Painted window reveals
*Leather-wrapped control wheels
*Utility slipcovers
*Window curtains
*Vinyl floor mats
Carpet mats
*Sheepskin slip covers
Entertainment Packages
*Rosen LCD flat screens
*DVD player with remote sensor
*Wireless headsets
Other options available
*Item is not part of the STC,  and is approved per a FAA 337
The Oasis Interior now offers two seat types for added comfort and customization of you Caravan interior. Select from our Oasis Executive seat or our Oasis VLS seat.
Simply select the seat that best suits your specific needs. Then sit back, relax and enjoy all of the reasons you purchased your Caravan and its perfectly appointed, customized Oasis Interior.
Oasis Executive Seat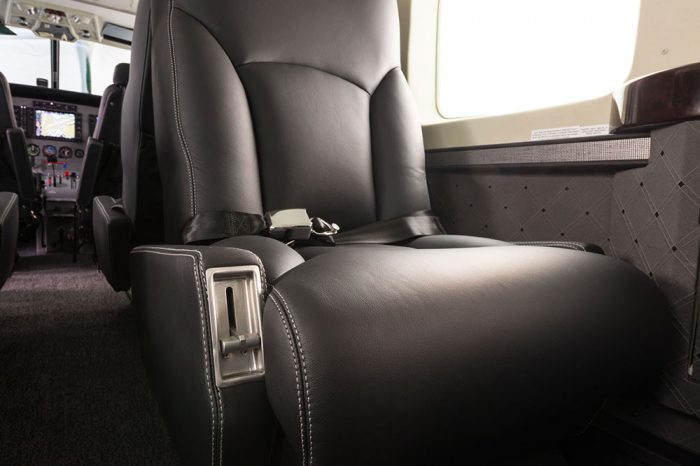 Hidden adjustable headrest
Stowable armrests
Recline
Shoulder harness
Forward/aft tracking on seat frame
Lateral tracking
360 swivel
Weight per seat 59lbs
9g certified
Oasis VLS Seat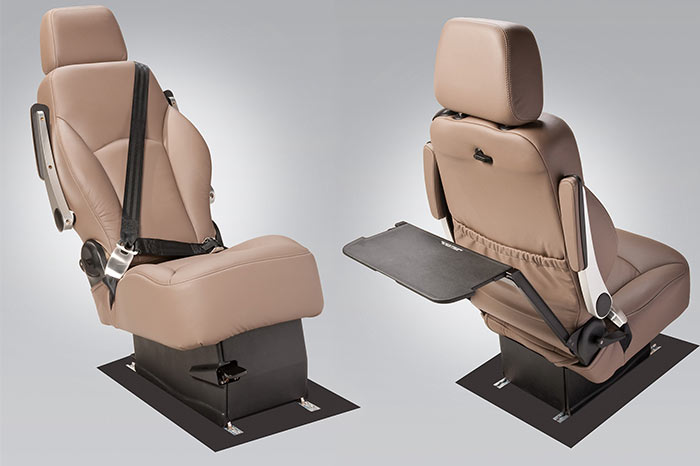 Seat height: 16″
Adjustable headrest
Stowable armrests
Recline
Shoulder Harness
Forward/aft tracking in airplane seat tracks
Meal tray optional
Quick release floor fitting
Backrest breakforward
Weight per seat 45lbs
9g certified 21g tested
The sky is the limit when it comes to your avionics and entertainment needs, let us design a system that works for you. All entertainment and avionics options are approved per a FAA 337.
Gold Entertainment Package
Three cabinetry-mounted 7" Rosen screens, with provisions at five locations
DVD player with remote sensor
Six wireless headsets
Flight display moving map
iPod cable adaptor
Silver Entertainment Package
Three sidewall-mounted 7" Rosen screens
DVD player with remote sensor
Six wireless headsets